Welcome to
Cast Rite Metal Company
Quality Aluminum Sand Castings since 1970
Welcome to Cast Rite Metal Company! If you are searching for a high quality aluminum sand casting foundry, look no further than Cast Rite Metal (CRM). For over fifty (50) years, Cast Rite Metal has provided high quality sand castings and service to companies in Pennsylvania, New Jersey, New York, Delaware, Maryland, New England, North and South Carolina, Georgia, Florida, Ohio, Arizona, California, Canada, and United Kingdom.
For both newcomers and long-time customers, we ask that you take a few moments to watch our introductory video above. We also invite you to view our project gallery highlighting examples of product we presently cast at CRM. Further services include machining, special finishing ... such as painting and polishing, new patterns, pattern repairs and maintenance, free pattern storage, and more. Stocking programs are also available. Please browse our website for additional information.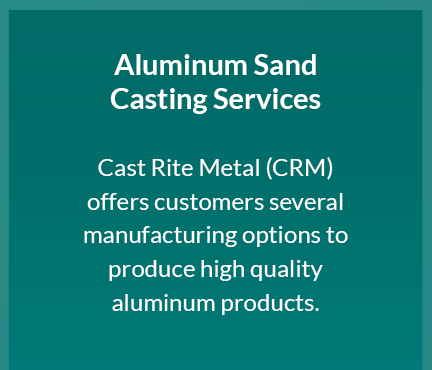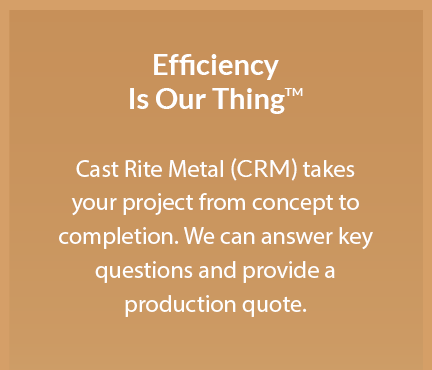 What Makes Our Process
Efficient?
Our process is efficient because we focus on what matters to our customers … a need for action! Our decades of experience help us to hone in on the best path to a high quality end product. See key points that highlight our process efficiency listed below:
On-Site Pattern Repair Shop and Free Pattern Storage
Repeat orders and projects are up and running quickly
Molding Diversification
Molding diversification offers customers economic manufacturing alternatives
Low Scrap Rates
We make it right the first time
Single Source Responsibility for Secondary Operations
Our turnkey approach saves you time and money
Customized Stocking Program(s)
You can rely on our experience to tailor production to your unique project
Delivery Process
Documented on-time deliveries ... Cast Rite is a low maintenance supplier
Consistent
Quality

and

On-Time Delivery
Diversified molding processes using only certified metal, and a highly experienced work force enables us to come through with the best quality products … every time. Quality is always a priority at CRM, we maintain quality control systems and manuals to MIL-I-STANDARD-45208.
Our foundry facility is located in Birdsboro, Pennsylvania, in close proximity to major Northeastern transportation routes. Since our first day in business, our commitment to our customers' satisfaction and on-time delivery has been CRM's highest priority.
Competitively Priced Castings

Because of Our Manufacturing Efficiency
CRM manufactures commercial aluminum castings that range in size from ounces to three hundred (300) pounds. No quantity is too small ... or too large. Diversified molding equipment gives Cast Rite Metal the option to manufacture your castings in the most economical way ... at the best price we can offer. Thank you ... and we hope for your interest!
Please
Contact Us

with any Questions, or to

Request a Quote!